The ever-increasing global interest in mobile commerce signals the urgent need to deepen knowledge on consumer behavior and preferences. A better understanding of the interests and values of the mobile user is crucial for the successful management and development of mobile shopping channels. Using the secondary data collected from reports of research companies and statistical portals, the paper aims at describe the state of mobile commerce and its development trends around the world. Following the analysis of secondary data, the paper we deal with the possibilities of optimizing business strategies in the field of m-commerce.
1 Introduction
Most consumers nowadays cannot do without their mobile phones. It is an indisputable fact that these devices are becoming the most important part of the daily life of the entire population, regardless of age as these devices not only enable people to connect with the outside world, but also to expand their personality and individuality and increase the quality of life by providing endless possibilities of use.
The potential of these mobile technologies has also been greatly influenced by the trade sector. This is because mobile technologies create many opportunities and new revenue possibilities for businesses themselves. Today, many consumers are looking for convenient forms of shopping at any time and in any place. If businesses want to keep up with the pace of change and optimize their business or marketing strategies, the key is to understand the behavior of the mobile consumer.
The aim of this paper is therefore to describe the current state and development trends related to mobile commerce in the world and based on the findings to outline the possibilities of optimizing business strategies in the field of m-commerce. Specifically, we will compare the use of mobile and other devices when making a purchase, the share of transfers and also the conversion rate. The paper also provides an overview of the share of m-commerce in the overall e-commerce market. The secondary data used for the analysis in question were collected from various reports of research companies and statistical portals.
2 Literature review
Smartphones have become a central tool of computing and communication technology for the general public (Alwahaish and Snášel 2013), because we can consider them as the most personal technological equipment of today (Hennig-Thurau et al. 2010). In many studies, researchers have found that mobile commerce is a next stage of e-commerce. As m-commerce also uses the Internet via mobile or tablet, researchers have categorized m-commerce as an extension of e-commerce. Both concepts are similar to each other and share the basic business principles (Fong and Wong 2015).
In the field of mobile commerce, according to Turban et al. (2015) there are five unique features that distinguish m-commerce from general e-commerce: ubiquity, convenience, personalization, localization, and accessibility. Mobile commerce is usually understood as the purchase and sale of goods or services, but also includes activities such as mobile banking, brokerage services, shopping, money transfer, mobile ATMs, mobile tickets, mobile vouchers, coupons and loyalty cards, mobile auctions, etc. (Endre 2009).
Some authors point to the many available sub-tools of m-commerce, but emphasize in particular the three main subsections, which are mobile banking (m-banking), mobile payments (m-payments) and mobile shopping (m-shopping). M-banking refers to the use of mobile devices for financial management (Shaikh and Karjaluoto 2015), m-payments refer to the use of mobile devices to pay for products or services (Slade et al. 2015) and m-shopping involves the use of mobile devices to search, browse, compare and purchase products and services online (Groß 2015).
From the retailers' point of view, mobile retail is based on the creation and maintenance of mobile websites, mobile ads, mobile customer service, as well as the management of mobile social networks (Shankar et al. 2010). Mobile phones are changing the way people shop in online stores and at physical locations (Pasqua and Elkin 2013, Pollák et al.2015).
Goh et al. (2015) found that consumer behavior differs depending on what device is used in the search for information – mobile phones and computers. Many users read content displayed on mobile phones intermittently due to smaller screens. This finding is also supported by the research of the group of authors Ghose et al. (2013), who found that searching for information via mobile phones increases costs and, in addition, the relative attractiveness of the first search result is higher than in the case of computer searches. The following part of the presented paper focuses on the analysis of secondary data in connection with consumer behavior in the field of m-commerce.
3 M-commerce trends in the world
Today, the global population is almost 7.7 billion people (Population 2019). Given the huge expansion of the Internet, it is not surprising that every second person in the world is currently an Internet user (eMarketer (2017a). At the same time, e-commerce statistics from the Statista portal (2019) point to the fact that there are 1.92 billion digital customers in the world in a given year, which is 7.2% more than in the previous year (eMarketer 2017b). These figures represent 63% of the total Internet user base and about one quarter of the total global population.
Data from We Are Social (2019), a large-scale report on digitization around the world, shows that the world's mobile phone population increased by 100 million in 2018. The total number of these people reached more than 5.1 billion by January 2019. This number increases the global penetration of mobile phone users to 67% and makes up two thirds of the total global population. The report suggests that 42% of the global population are also mobile social users. Interesting figures are also given by GSMA Intelligence (2019), according to which in 2018 there were 3.6 billion people in the world using mobile internet. At the same time, these figures represent 47% of the total global population.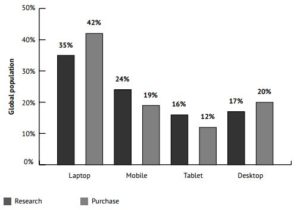 Figure 1: Search and purchase of products in terms of used equipment
Source: Deloitte (2018)
Interesting results were obtained by Deloitte (2018), which conducted a global survey on a sample of 54,154 mobile consumers from 35 countries and six continents. Among other things, the survey focused on the devices used by respondents to search for and purchase products. The results revealed that the most used device for searching and buying products is a laptop and the second most used is a mobile phone. However, it is interesting to note that respondents use mobile devices to search for products (24%) than to complete their purchases (19%). On the other hand, laptops are used to search for products (35%) less than they are used to complete their online purchases (42%) (Figure 2).
Wolfgang Digital (2020), which analysed more than 130 million sessions from November 2018 to October 2019, said in its report that 2020 was the first year in which most of the revenue was generated through mobile devices. In addition, however, the report in question indicates the percentage of traffic and revenue by devices used. While we record 8% traffic through tablets, the share of revenues from this device is at the level of 9%. A 22% share of traffic was recorded using the desktop, while revenues from this device were much higher, 36%. The opposite situation is recorded in the case of mobile devices. The percentage of traffic is the highest – up to 70%. On the other hand, the share of revenues from the device is much lower, at only 55%. It is therefore clear that mobile devices are predominantly used for searching and browsing the Internet, but in terms of purchases made and related revenue, the numbers are still low.
According to a report by Monetate (2020), which analysed 2.1 billion customer sessions at more than 250 retailers, in Q1 2020, global mobile conversion rates were 1.81%, for desktops 1.98%, and conversion rates on tablets reached 2.92%. However, the mobile conversion rate in the UK is slightly higher, at 3.50%, compared to 3.14% for computers. These data could also be caused by the impact of the pandemic, when the operation of brick-and-mortar stores was limited and people relied on e-commerce and mobile devices. In 2019, the conversion rate on mobile devices was less than half that of computers, at 2.25% compared to 4.81% for computers. Tablets also performed better, achieving an average conversion rate of 4.06%.
Obviously, people probably like to spend time on mobile devices, but they prefer a computer for the purchase itself. This may be because it is more difficult for people to view the products and then complete the purchase on small screens.
Similar findings were arrived at by Invesp (Saleh 2020), who claims that mobile sales are at 56%, which is more than half of all sales, but as indicated by the results of other analysis, the growth of the mobile conversion rate is not so significant. The figure below interprets the conversion rate development from a perspective of devices.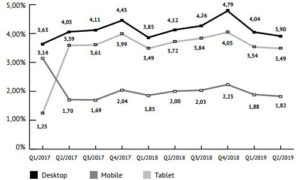 Figure 2: Conversion rate from a perspective of devices
Source: Saleh (2020)
An interesting finding is the fact that since Q1 2017, the conversion rate of mobile devices has decreased rapidly. Only a slight upward trend had been recorded before Q4 2018, when the downward trend overtook until Q2 2019. As is evident, mobile devices achieve the lowest conversion rate among other devices. On the contrary, the highest rate, which is up to 4%, is in the case of desktops. According to Invesp (Saleh 2020), Q4 2018 was the period in which the highest rate was recorded across all devices, in particular, in the case of tablets, up to 4.79%. Subsequently, however, the ratio of this device was reduced to 3.90% in the following half-year.
The importance and positive development of m-commerce is also evidenced by statistics by the eMarketer portal (2018) (Chart 3), which states that retail e-commerce sales reached exactly $ 2.3 billion in 2017, an increase of 23.2% compared to the previous year. The share of mobile devices in this market accounted for 58.9% of total e-commerce sales in that year, which represents $ 1.4 billion.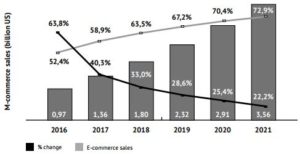 Figure 3: Share of m-commerce in e-commerce (global)
Source: eMarketer (2018)
In 2018, the share of m-commerce in total e-commerce could be about 4.6 percentage points more. It is projected to reach $ 1.804 billion – a 63.5% share in e-commerce. The portal predicts that in 2021, mobile e-commerce could reach up to $ 3.5 billion, accounting for nearly three-quarters (72.9%) of total e-commerce sales.
Mobile website statistics also report excellent results. More than half (52.48%) of website traffic comes from mobile devices. Worldwide Internet traffic is clearly dominated by mobile devices. In second place in this ranking are desktop computers, which is responsible for 44.59% of the Internet traffic. The market share of tablets in this area is low. It covers less than 3% of Internet traffic (Stat Counter 2019).
This shift reflects the changing attitudes towards m-commerce and signals a new era of growth for other shopping channels that are heavily dependent on the mobile phone. There is no doubt about the fact that Asia is the driving force behind m-commerce. 63% of consumers in the region shop every month via their mobile phones. Figures in Europe and North America are also rising, hovering between 40% and 45% (Young 2018).
Conclusion
The constant development of mobile technologies is a reflection of changing consumer shopping habits. With the change in available technologies comes the change in shopping channels, which bring consumers new business experience. Although mobile commerce has a growing tendency in a global sense, according to the data presented above, it is evident that these devices are still not the dominant purchasing channel. The ubiquity, as one of the most significant advantages of mobile phones, encourages users to use their mobile devices in the initial stages of the purchasing process. After reaching the purchase stage, however, customers opt for another device. There may be several reasons for this.
Mobile devices have much smaller screens than tablets and computers, so the mobile payment process can be more challenging than when using any other device. Businesses should therefore facilitate the process of completing and paying for an order as much as possible, for example by automatically filling in addresses on the basis of a postal code, or by pre-selecting a numeric keypad when entering credit card details. Boosting purchases made through mobile devices is also possible by adding key Call to action buttons and making it easier to scroll through products for immediate purchases. A great tool to support m-commerce are mobile applications that can be personalized, easier to use, and which by their nature can improve the shopping experience.
As mentioned in the previous sections, mobile devices show strong business potential in the retail environment. For the time being, however, it remains questionable to what extent m-commerce shopping preferences will change the consumer behavior. The amount of time people spend on mobile devices, combined with the trends that are evident, makes the mobile phone a powerful business tool that should not go unnoticed.
Poznámky/Notes
This research is one of the partial outputs under the scientific research grants VEGA 1/0694/20 "Relational marketing research – perception of e-commerce aspects and its impact on purchasing behavior and consumer preferences" and VEGA 1/0609/19 "Research on the development of electronic and mobile commerce in the aspect of the impact of modern technologies and mobile communication platforms on consumer behavior and consumer preferences".
Literatúra/List of References
Alwahaishi, S. and Snášel, V., 2013. Factors influencing the consumers´ adoption of mobil internet. In: The third international conference on digital information and communication technology and its applications (DICTAP2013). Czech Republic, Ostrava. ISBN 978-0-9891305-0-9.
Goh, K. Y., Chu, J. and Wu, J., 2015. Mobile advertising: An empirical study of temporal and spatial differences in search behavior and advertising response. In: Journal of Interactive Marketing. 2015, 30, 34-45. ISSN 1094-9968.
Deloitte, 2018. A mobile world a study on nordic mobile consumer behaviour. 2018. [online]. [cit. 2020-10-12]. Available at: <https://www2.deloitte.com › GMCS-report-2018-final>
Emarketer, 2017a. Internet users and penetration worldwide. 2016-2021. 2017a. [online]. [cit. 2020-10-14]. Available at: <https://www.emarketer.com/Chart/Internet-Users-Penetration-Worldwide-2016-2021-billions-change-of-population/212610>
Emarketer, 2017b. Forecast growth in percentage of online retail/Ecommerce sales. 2017b. [online]. [cit. 2020-10-14]. Available at: <https://www.smartinsights.com/digital-marketing-strategy/online-retail-sales-growth/>
Emarketer, 2018. Mobile is driving retail ecommerce sales worldwide. 2018. [online]. [cit. 2020-10-23]. Available at: <https://retail.emarketer.com/article/global-ecommerce-topped-23-trillion-2017-emarketer-estimates/5a6f89f5ebd40008bc791221?ECID=SOC1001&utm_content=bufferdfa97&utm_medium=social&utm_source=twitter.com&utm_campaign=buffer>
Endre, G., 2009. Standardization as open innovation: two cases from the mobile industry. In: Information Technology & People. 2009, 22(4), 367-381. ISSN 0959-3845.
Fong, K. and Wong, S., 2015. Factors influencing the behavior intention of mobile commerce service users: An exploratory study in Hong Kong. In: International Journal of Business and Management. 2015, 10(7), 39-47. ISSN 1833-8119.
Ghose, A., Goldfarb, A. and Han, S., 2013. How is the mobile internet different? Search costs and local activities. In: Information Systems Research. 2013, 24(3), 613-631. ISSN 1526-5536.
Groß, M., 2015. Mobile shopping: a classification framework and literature review. In: International Journal of Retail and Distribution Management. 2015, 43(3), 221-241. ISSN 0959-0552.
GSMA intelligence, 2019. The mobile economy 2019. 2019. [online]. [cit. 2020-10-23]. Available at: <https://www.gsmaintelligence.com/research/2019/02/the-mobile-economy-2019/731/>
Hennig-Thurau, T. et al., 2010. The impact of new media on customer relationships. In: Journal of Service Research. 2010, 13(3), 311-330. ISSN 1094-6705.
Saleh, K., 2020. The average website conversion rate by industry (updated by 2020). 2020. [online]. [cit. 2021-04-28]. Available at: <https://www.invespcro.com/blog/the-average-website-conversion-rate-by-industry/>
Monetate, 2020. Q1 2020: Ecommerce quarterly benchmarks. 2020. [online]. [cit. 2021-04-28]. Available at: <https://get.monetate.com/q1-2020-ecommerce-quarterly-benchmarks/>
Obyvateľstvo, 2019. Súčasná populácia. 2019. [online]. [cit. 2021-04-28]. Available at: <http://obyvatelstvo.population.city/world/>
Pasqua, R. and Elkin, N., 2013. Mobile marketing. An hours a day. Indiana: Sybex, 2013. ISBN 978-1118388440.
Pollák, F., Nastišin, Ľ. and Kakalejčík, L., 2015. Analytical view on the use of mobile platforms in purchasing process. In: European Journal of Science and Theology. 2015, 11(6), 137-146. ISSN 1842-8517.
Shaikh, A. and Karjaluoto, H., 2015. Mobile banking adoption: A literature review. In: Telematics and Informatics. 2015, 32, 129-142. ISSN 0736-5853.
Shankar, A. et al., 2010. Mobile marketing in retailing environment: Current insights and future research avenues. In: Journal of Interactive Marketing. 2010, 24(2), 111-120. ISSN 1094-9968.
Stat counter, 2019. Desktop vs mobile vs tablet market share worldwide. 2019. [online]. [cit. 2020-09-04]. Available at: <https://gs.statcounter.com/platform-market-share/desktop-mobile-tablet/worldwide/2018>
Statista, 2019. Number of digital buyers worldwide from 2014 to 2020. 2019. [online]. [cit. 2020-10-14]. Available at: <https://www.statista.com/statistics/251666/number-of-digital-buyers-worldwide/>
Turban, E. et al., 2015. Electronic commerce: A managerial and social networks perspective. Switzerland: Springer International Publishing Switzerland, 2015. ISBN 978-3-319-10090-6.
We are social, 2019. Digital 2019: Global internet use accelerates. 2019. [online]. [cit. 2020-09-04]. Available at: <https://wearesocial.com/blog/2019/01/digital-2019-global-internet-use-accelerates>
Wolfgang digital, 2020. KPI report 2020. 2020. [online]. [cit. 2020-09-04]. Available at: <https://www.wolfgangdigital.com/kpi-2020/>
Young, K., 2018. The importance of mobile commerce for affluent consumers. 2018. [online]. [cit. 2020-04-16]. Available at: <https://blog.globalwebindex.com/chart-of-the-day/mobile-commerce-affluent-consumers/>
Kľúčové slová/Key words
mobile commerce, mobile devices, online shopping, conversion rate
mobilný obchod, mobilné zariadenia, online nakupovanie, konverzný pomer
JEL klasifikácia/JEL Classification
M30, M31
Résumé
Prehľad súčasných trendov v mobilnom obchode: globálne perspektívy
Neustále sa zvyšujúci globálny záujem o mobilný obchod signalizuje naliehavú potrebu prehĺbiť poznatky o správaní a preferenciách spotrebiteľov. Lepšie pochopenie záujmov a hodnôt mobilného používateľa je kľúčové pre úspešné riadenie a rozvoj mobilných nákupných kanálov. Pomocou sekundárnych údajov zozbieraných zo správ výskumných spoločností a štatistických portálov sa práca zameriava na popísanie stavu mobilného obchodu a jeho vývojových trendov vo svete. V nadväznosti na analýzu sekundárnych údajov sa v príspevku zaoberáme možnosťami optimalizácie obchodných stratégií v oblasti m-commerce.
Recenzované/Reviewed
19. August 2021 / 13. September 2021